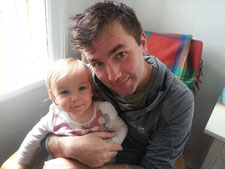 Who are you?
Micah. Living in Reykjavik, Iceland but am originally from Canada.
Where and how do you live?
Living situation: Shared apartment with my partner and 18 month old daughter. Was working as a tour guide but have been laid off due to the collapse of tourism from covid-19. 
How bad is Corona where you are, how does it affect your daily life?
Local effects of covid-19: most indoor public spaces and swimming pools are closed. Day cares and primary schools remain open though classes are heavily segregated. Older students and universities are doing online learning only. Restaurants are still open for take out food as are other businesses considered "essential." 20 people is the maximum group side allowed in Iceland right now. Personal effects: Play groups for our daughter are cancelled indefinitely. Direct flights home to Canada are no longer available. I understand that the only remaining regular international flights from Keflavik now are to London, Stockholm, and Boston.
How do your organize your daily life (in quarantine)?
My weekly poker group now meets and plays online. With the video app "HouseParty" our group can all still socialize together in a different but still fun way. Daily life now is very basic. Lots of time at home as a family. Daily trip outside such as for a walk or run. Weekly trips to the grocery store. The stores here seems to still have lots available (including toilet paper). Much more time watching movies and online games.
What's your biggest fear?
No real fears. We will get through this. Just getting a bit repetitive and boring. I wish there were jobs available right now but thankfully I am able to get unemployment benefits for the next few months.
Any other topics beside Corona, personal or general?
Non-Covid-19 news? We were just granted permanent resident status in Iceland, yay!
Any positive things you see in Corona - or in the effects so far?
Positives: More time with my young daughter. More time in nature.
What are you really looking forward to after Corona?
When this over, I look forward to being able to socialize properly again and hopefully secure a good job. Also, several trips I had planned to do this year can hopefully happen eventually. 
Thanks for sharing, Micah. Stay safe in Reykjavik!