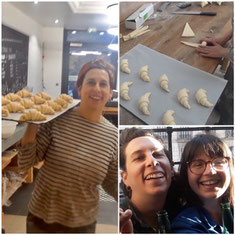 Who are you?
Marine, I am from France and living in Marseille, in the south of France.
Where/how do you live?
I live in a shared appartment with my friend Zoe. We moved in together a month before the quarantine. We had made fun about taking this as a test for our new house sharing. So far, so good. I work as a pastry chef and baker in a bakery, so I'm still working about 35/40hrs a week (we are considered as a first necessity shop), a bit less than before, wich is actually good because I don't do all the extra hours I usually do.
How bad ist Corona where you are/ how does Corona affect your daily life?
We are 'totally' confined for three weeks now. We have to stay home and are allowed to go out with a derogation only to do: 1st necessity groceries, take a 1hr walk or jogg at 1km from home, assist someone who can't move from their place or for family reasons (take your kid if you're seperate), go to work if you can't work from home and your job is one of first necessity, if you are working or volunteering with associations who help people in need (make and deliver food mostly), if you need to see a doctor with appointment, or if you have a judicial or administrative summons. Police is in the streets and can ask to show them the derogation at any time, if you don't have it or it is not proper, you can have a 135€ fine or more. 
I still have my daily routine as I go to work. But when I finish work I go home. Can't go anywhere else expect for groceries, despite all the nature and sea around. With the spring coming and warm and sunny days, it is quite frustrating.
How do your organize your daily life (in quarantine)?
When we knew the quarantine was inevictable, I made a big list of all the things I wanted to do for a long time and didn't have time for. Draw, read, write more. But I almost didn't do any. I don't find lots of motivation. I read more though, but especially, I drink more! With my flatmate, we are almost counting hours until 'apero'... This is our routine, we meet at our kitchen window at 6pm. Sometime sooner. And I talk with my family and friends on whatsapp in a weekly basis.
What do you miss the most?
What I miss the most is my freedom, being able to go walk in the callanques, or go out for a weekend. I don't miss my friends and family a lot as I talk with them on social network. In another way, I miss a lot my social night life, as it is a big thing in Marseille. Just going out for a beer in bars with friends. I guess I miss my friends, when I see them and meet new people.
What's your biggest fear?
My biggest fear would be the lenght of this confinment as the spring is coming up, and this is the time of the year I enjoy the most. I don't see the end of this, and don't know how life will be when restrictions due to Corona will be over. It will probably go progressively, and most of the gathering places won't be open so soon ( museum, libraries, bars, restaurants, festivals, ect).
Any positive things you see in Corona – or rather in the effects so far?
I find this forced time to be at home quite precious in a way, as I really find time for myself, to cook and eat well, to rest a lot (with my daily working hours, it is quite good) without guilt. Sometimes in the 'normal life', I feel like I have to do things, go out, be active, which I love of course. But I try to think that having to stop being superactive is revitalizing. As long as it doesn't last too long.
What are you looking forward to the most after Corona? What's your biggest hope / wish?
Going to bars....? yes definitively. But also, travelling. I hope things will be back to normal by August as my working contract will end by that time. I have different travelling projects and wish I'll be able to do them. (I'd like to visit differents bakeries project in France, not traditional, sourdough bakeries, working with woodstove, stuff like that) and europe, if you have any idea...! ;) 
Almost time for apero, I have to go...! :p
Merci et à santé, Marine!! :) Thanks for sharing, stay safe in Marseille!!