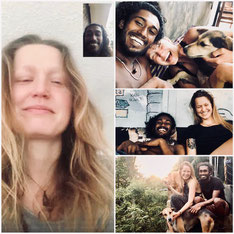 Who are you?
I'm Leona, I'm from Cologne and have been living in Sri Lanka until end of last year (2019).
Where and how do you live?
I live in a small apartment in Cologne, right now by myself. My plan was to fly to Sri Lanka in April. My partner is there, we wanted to go to Germany together and give up our house together this month. We are very lucky he already got his family reunion visa some weeks ago, with this type of visa he is allowed to cross the boarder. 
How bad ist Corona where you are/ how does Corona affect your daily life?
The situation brought us quite a lot of chaos, I still have so munch stuff there (in Sri Lanka), he had to quit the house I was renting, our flights got cancelled three times. Since two weeks my partner is in a very strict quarantine which got only lifted three times for 6 hours. We were waiting for his visa for 4 months and haven't seen us for 5 months now. So every day more is frustrating. But since he has a flight end of the month we are also very positive and excited. We were very lucky to book one of the last affordable flights with Qatar airways, which is the only operating airline to come from Sri Lanka to Germany in these days. I still don't trust the situation and check on his booking daily. In Cologne, I work in a restaurant and a cafe, so I lost my jobs also. I get governmental support through one of my jobs, but I have less than 50% of my usual income, so I can pay my rent, but it's impossible to live from. I have some savings and will probably look to find another job.  Furthermore I was supposed to start as a law trainee end of the summer, which also stopped, so my education is also affected. Corona does affect me on several points, but I'm doing good so far. I'm excited to welcome my partner soon and until than I'm enjoying my free time. I do a lot of yoga, go for daily runs, read, have a lot of virtual social contacts and so much time to talk to my family and friends. I cook myself nice food and I have my quarantine buddy. She is a very close friend and we meet up often, play games, have great conversation, reflecting and exchanging a lot about life, society etc. and I also changed my apartment. I think many people do that now, you can find so many books and even furniture on the streets! It's always good to go for a walk in this time, simply going somewhere not so busy is great.
What do you miss these days?
I miss seeing all my friends and my family, hugging people,  I love body contact, I really miss it. And I miss my jobs, I love working there, in both places I'm part of an amazing team, we had such a good start in the year and so much fun working, it was really sad to be forced to stop it, but there is no other way so far.
What's your fear?
My biggest fear is still the situation with my partner, the last operating airline could stop flying or the travel limitations become even stricter. That would be so horrible for me. But so far I think I'm doing quite good and there are probably many people who go through a way harder time than me. I have no kids, I have enough space, I can go in the sun and I can be with myself.
Any positive things you see in Corona – or rather in the effects so far?
The environment recovers, maybe we can reach the environmental goals we had for 2020. I also see how many people slow down, also me, I'm always doing something, working, meeting friends and so, and I relax now, I take time for myself, that's good. And I see so many people in the parks, they look happy, they smile on their run, they can spend the whole day with their partner, their children and their pets. It can be challenging but also great. I'm excited about all the positive vibes, people offer their help, the society connects in a unique way. That's nice to see. Eventually corona brings more misery than luck, no question. Germany is still doing good, we only have to look around, our neighbor countries got affected way harder and if we look to poorer countries, it's very hard. Than I feel extremely sad and helpless.
What are you looking forward to the most after Corona?
After Corona... I think I will keep a little of my corona lifestyle and I'm looking so much forward to travel once the situation allows. I wanna go back to Sri Lanka and say goodbye to the dogs I have been living with for 1,5 years, and also to all the nice people I wanted to hug now. That's very personal. In general I hope for all the affected people not to suffer and always find new solutions and ways and I wish that all the people who are still working in the health system and supermarkets, all the people who keep the system running, that they stay strong, and a fair salary, some might get it, but not all of them, and we are so depending on them and they doing so great, we should never forget about them.
What's your biggest hope / wish?
Last but not least, even I think our politicians are doing good so far, Europe must act and the refugees are in urge need of help, the European Union has to act there. That's probably what I wish the most!
Thanks for sharing, Leo. Stay safe!