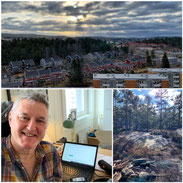 Who are you?
I am Arne Berg, music journalist living in Oslo, Norway.
Where/how do you live?
I'm single, living in a two-bedroom apartment on the eastside of Oslo, part time with my son, until he leaves for the army later this spring. Right now, I'm working from home, making my weekly global music show "Jungeltelegrafen" on Norwegian Broadcasting's Radio P2. 
How bad is Corona where you are/ how does Corona affect your daily life?
Norway is very high up on list of infected per capita, but that is probably due to the number of tests done. So far (today is the 26th of march), 14 people have died in Norway. Almost everything is shut down (except food stores and pharmacies), including all educational institutions. More than 200.000 unemployed for the first time since the 30s, so I'm lucky to have a job in public service media right now.
How do you organize your daily life (in quarantine)?
I'm lucky. I'm working. I also live close to the forest, so I can go out every day, if I want to, and be alone. On top of that I have a balcony on the 11th floor, so I have a view. I've made a deal with three of my friends, that we see only each other during this crisis, and hopefully, none of us get sick. We keep distance to each other, and of course to everyone else. I must do the shopping now and then (once a week, I have a car) and stay away from crowds. Generally, I follow all advices from the health authorities.
What do you miss the most?
I miss people. By far, that's the worst. I also miss travelling, of course, but that was about meeting people, anyway. And I know I will be sitting here the first weekend of July and listen Roskilde Festival's playlist and just sulk. Well. Live music will be back with a vengeance when this is over.
What's your biggest fear?
My biggest fear is what will happen afterwards. Don't misunderstand; this will be horrible during the pandemic, especially when it hits the refugee camps, Gaza, Somalia, places without the resources to handle it. Mass death will come. But my fear is that people will turn to nationalist, sectarian and fascist leaders to ''save'' them. We see the signs. Hungary. Poland. England. The rise of European nationalism, again, really scares me.
Any positive things you see in Corona – or rather in the effects so far?
I really think this is a crossroad, and historians 50 years from now will judge us by what we did right now.
I think there is an opportunity. The way capitalism is organised (was organised) had nothing preparing us for a calamity like this, even though we had been warned, many times, that a serious pandemic would come, sooner or later. So how did we organise the things that are lacking now, protection masks, rubber gloves, hand sanitizers, respirator machines? Why on earth don't we have a backup? What happened to the big state-owned warehouses filled with everything we need in case of emergency? They were privatised. Sold out. We left to private companies to keep us safe in case of a disaster. And now people die because of it. So, maybe we elect someone who cares more for common good and less for eternal growth.
And more: maybe we can use this opportunity to stop and think (we got nothing better to do, right?). Maybe now, when we are forced to stay put in our homes, together with our close ones, we will reconnect and re-establish our kinship? Maybe there will be a baby boom next year? (no, not me, I'm single and, anyway, way too old)
I also think the satellite images of a China without pollution, the sightings of dolphins in the canals of Venice, the inevitable rise in airline prices, the experience with no rush hour and empty streets, this all will remind us that this earth is threatened in so many other ways than another corona virus.
The other day I was in the forest east of Oslo, and spring finally was there, for real. The ice melting on the lakes. The hysteric singing of birds! The first blue spring flowers on the brown and grey ground. It was like Mother Earth told us: "I see you are in despair; I see how bad it is. So, I give you another spring to comfort you in this time of darkness. " And maybe she also wants to show us that nature is unaffected, it follows its rhythm, regardless of the follies of mankind.
Maybe this is the turning point.
Thanks for sharing your thoughts and feelings, Arne!! Stay safe.