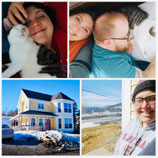 Who are you?
Rebekah, from the UK living in Newfoundland, Canada
Where and how do you live?
I live with my partner and four fluffy cats, we live in yellow house overlooking the Atlantic ocean. My partner is a Chef and I usually work front desk at hotels.
How bad ist Corona where you are/ how does Corona affect your daily life?
Slow development, the last province to be affected and the numbers are increasing daily. Was in the middle of moving jobs/employers before this happened. Restaurants closed but take out usually possible. Schools closed as well as retail. Partner works at a hotel and has been laid off. Daily closures/updates are announced through press conferences from provincial & federal developments. I have a trip back to the UK booked at the end of June for a wedding. Just waiting to see what happens. Due to mental health have taken a leave of absence.
How do your organize your daily life (in quarantine)?
Have a structure for the week. My house is so clean and organized ;) Lots of cooking, new computer games played and Netflix list is being worked on and lots of documentaries being watched. Daily walks, and have virtual fitness classes etc. Have colouring books and scrapbooking projects but I have had those items in the house beforehand. Spend a lot of time reading and limit social media.
What do you miss the most?
The ability to leave Newfoundland ;)
What's your biggest fear?
That something will happen to my family while I am here. My mum is on the high risk list as she is immunocompromised after just finishing chemotherapy so I worry about her.
Are there other topics right now besides Corona (general or personal)?
I think this will help open people's eyes to the effects humans have on the planet and will hopefully see new supporters of climate change action.
Any positive things you see in in the effects of Corona so far?
Quality people time, lots of video chats, people getting in touch after not speaking for awhile. Definitely realising my life is not that exciting so definitely want to change that when we're all through this.
It has been a bit of shame because during the big snowstorm we had here people really looked out for one another and checked on one another. Unfortunately this pandemic seems to be having a different airport effect on people – quite selfish, agressive, negative attitudes and the importance of the almighty dollar is being pushed. I love that stores are taking such precautions – pet stores and also the vets to ensure animals are being looked after, especially as there are more animals being left at shelters and shelters have had to stop their animal surrendering policy at this time.
What are you looking forward to the most after Corona?
Travel. Always travel
Thank you so much, Bekah for sharing your thoughts and emotions and everything!! Stay safe, true North!